Dance Train founder and principal Emma Weir began her dance teaching career with her Associate qualification in 2002. Since then she has become a Fellow of the IDTA, gained a BA (Hons) in Professional Dance Development and a PGCE in post-16 education. She has taught in London since 2005 and now works primarily in adult education and training, with some classes and services available to book.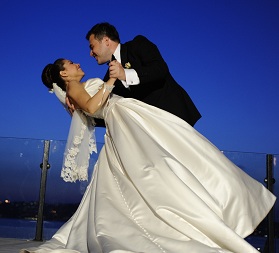 One of Emma's previous couples on their wedding day
Adult Education
Emma teaches beginner / social improver level dance classes in a range of styles including ballroom, Rock 'n' Roll and American Smooth at the Mary Ward Centre in central London - see image (right) for details. The dates for these courses have now expired but the updated information is available at www.marywardcentre.ac.uk
From 2005-2016 Emma taught at the Bishopsgate Institute but has now completed her final term at this venue. Since 2018 she has been a trainer for Para Dance UK, training new instructors in Inclusive Dance.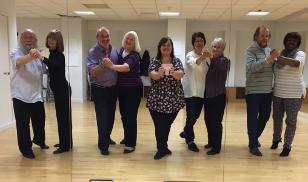 Forever Wedding Dance
Emma offers private tuition in London for couples creating their first dance routine. Whether it be a fully choreographed show piece or simply a few moves to avoid the dreaded 'shuffle' and feel comfortable on the floor, Emma can help.
See our dedicated wedding page: